THIS IS GEORGE W. BUSH

He's President of The America I Live In.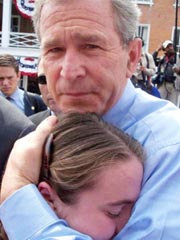 "This girl lost her mom in the World Trade Center on 9-11."

Bush stopped and turned back.

"He changed from being the leader of the free world to being a father, a husband and a man," Faulkner said. "He looked right at her and said, 'How are you doing?' He reached out with his hand and pulled her into his chest."...

"The way he was holding me, with my head against his chest, it felt like he was trying to protect me," Ashley said. "I thought, 'Here is the most powerful guy in the world, and he wants to make sure I'm safe."

That's right, Ashley. He wants to protect all of us...to make sure all of us are safe.

He is an honorable man.
(Photo by Lynn Faulkner )