NEWS ABOUT FALLUJAH YOU AREN'T GETTING ON CNN
A new, larger Internet facility opened recently at Camp Fallujah. The most-requested features are the 10 Webcams, where troops can see whom they are talking with back home while sending real-time text messages.

"It's nice seeing my family, and it makes my wife feel good to see me," said Sgt. John Horner of Okmulgee, Okla., a member of the Oklahoma Army National Guard and the 120th Engineering Battalion.

Michelle McKinney, a Morale, Welfare and Recreation coordinator who helps run the facility, said the 47 computer and 10 phones are used around the clock, with lines of troops waiting to get on most of the day.

"For me the hardest part of the job is telling someone they have to get off the phone when their time is up," McKinney said.
However, for those of you without access to a webcam linked to Fallujah, here is an up close look at one face of the American Serviceman getting it done in Iraq.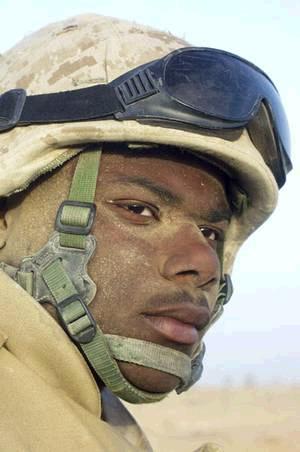 Charlie Coon / Stars and Stripes